I've been having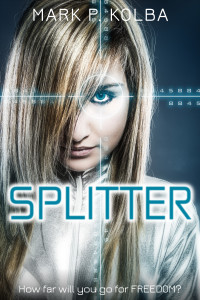 a great time this year being back into more of a writing groove.  Along those lines, I'm pleased to announce that my latest novel, Splitter, has been completed and is going through editing at this very moment.  I've also finished the cover design, which I'll tease for you here just because I'm super excited about it:
Splitter is book one in a new dystopian science fiction series, The Splitter Saga.  I'll save the blurb for a little later so that I can tease you all one more time before Splitter is published, but it's a story that almost wrote itself.  I hope that everyone has as much fun reading it as I did writing it.
I've already started on Sentry, which is the sequel to Splitter, and I'm continuing to work on the sequels to Awakening from the Shadows and Shattered as well.  Now that I have three different book ones completed, my wife has made the [probably wise] suggestion that I start finishing some book twos and book threes before I start anything else new.  I do have some cool new series ideas that I'll get to eventually, but for the foreseeable future I'm going to be working on finishing what I've started.  I hope you come along for the ride!